£13 Million Mega Moolah Jackpot won off 25p bet!
12 October 2015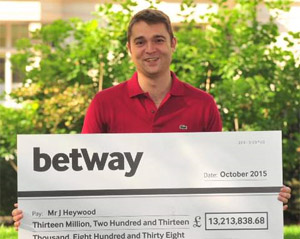 Jon Heywood is the £13 Million
Mega Moolah Progressive Jackpot Slot Winner
Microgaming's famous Mega Moolah Progressive Jackpot has caused a stir amongst slots players across teh globe over the past few months climbing high into the multi-millions and reaching a whopping £13.2 million before it was won. We've been eagerly awaiting details since noticing that the jackpot counter had been reset to the default £1 million mark last week, and now we have the scoop!
Jon Heywood, a 26 year old soldier and Afghanistan veteran from Cheshire UK is the very lucky winner and the most amazing thing is that he hit the jackpot on a 25p bet at Betway Online Casino on the 6th of October 2015.
According to Heywood, the priority for the finances will be to get his father who is currently awaiting a heart and lung transplant the best medical treatment possible, which he states is more important than anything else. To Heywood, family comes first and he adds that he'd give all his money to have his Dad fit and healthy again.
In addition to paying for his father's medical bills, Heywood says that he doesn't want to get carried away and isn't really certain what else he will spend the money on apart from his dream car - a yellow Bentley Continental GT. According to Heywood, he currently owns a Fiat Punto and has never dreamed of driving a Bentley nevermind owning one. He also plans to take his family on a Mediterranean Cruise.
Even though the life-changing win took place on the 6th of October2015, Heywood had to remain silent on the matter until the win was validated and so he even went to work the next day as usual. Once the win was official he told him mother who cried a little at the fantastic news.
As mentioned earlier, Heywood was playing at Betway Online Casino - part of the Palace Group and a property known for its stellar reputation in the industry which means that he will have no trouble getting the money owing to him. Another great perk about playing slots in the Microgaming Progressive Network is that all wins are paid out in a single lump sum whereas other providers have payment limits which means that winners have to receive monthly payouts over years and just hope that the casino in question isn't rogue or doesn't go out of business while money is still owing to them.
It really seems that his one went to a deserving winner...congratulations Jon Heywood.