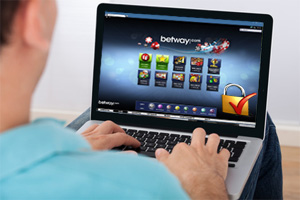 Playing at Online Casinos is not only exciting but also a great deal of fun, but if you continually have a nagging feeling in the back of your mind regarding the safety and security of your personal details, credit card or any other details, it can really detract from your enjoyment of the experience. We regularly get requests for information pertaining to player security, what to do to prevent fraud and also the degree to which casinos are involved in the safety and security of their patrons information and banking details, as such we have put together this basic player security guide to assist you in doing your part to ensure that your casino experience is characterised not only by a good time, but also complete peace of mind.
Online Casino responsibility
Licensing
Any casino worth its salt is highly concerned with the safety and security of their players personal information and banking details, after all, it is their business to keep players happy and playing and any hiccups can cause not only bad publicity but huge revenue loss. This once again goes back to casino credibility, so make sure you are playing at a regulated, licensed casino by looking for the eCogra or licensing jurasdiction logos on the site (you may want to cross check this on the actual licensing body websites too just to be sure).
Banking Security and Systems
So you are at a reputable, licensed casino...check! Next, you need to make sure that the casino is using high security software. Most do and use standard 128-bit SSL (Secure Socket Layer) digital encryption to protect your personal and banking data. You will be able to verify this by checking out the safety and security pages on the website or sometimes the FAQ's. If you still don't feel comfortable transacting over the internet, you can also phone the casinos support team who will be able to assist you.
Fraud Prevention and detection
Casinos employ risk analysts who are responsible for preventing and detecting fraud both to protect you and the casino. They also work with payment processors who offer further fraud protection to clients. Also, if you suspect any fraud has taken place on your account then casino customer care representatives are trained to assist you in looking into the matter, although in our years of experience this has never been necessary.
Tips to keep you safe
So while the casino is responsible for your protection, and it is rare that you should encounter any problems, there are a few things that you can do to ensure your security.
Research the Casino before you Play
It is necessary to research the casino you wish to play at before signing up, this can be done by reading independent reviews or doing searches on player forums for their name. You will usually find that any casinos who are not doing business properly are named and shamed. Be discerning though as some good casinos receive complaints from players trying to manipulate them for bonuses etc. but this is usually pretty evident. Occasionally though even a good casino may receive a legitimate complaint but these casinos will have a representative answering to and following up on them. As a general rule of thumb though, if there are numerous complaints, there is usually something wrong.
Also check up on the licensing of the casino and the regulating body, as well as who the processor of banking transactions is (Proc Cyber is one of the very well known and trusted processors). Another thing to check up on is, as mentioned before, the security systems that they are using to protect your transactions.
You will find that the most well known and highly advertised casinos are usually the most trustworthy as they have a great deal riding on their brand and image, and are also trusted by the independent reviewers who take the time to promote them on their websites. Once you have done your homework and are comfortable with your chosen casino, you will feel better about playing.
Do not share your information
This may seem obvious, but you will be surprised at the number of stories one hears regarding the sharing of player accounts. Do not share your account with anyone, if they want to play let them sign up their own account. Also, keep your player login and password confidential at all times and if you do write it down, please keep it out of reach of your children (and maybe we should add spouse here if you don't want them playing on your account).
Also, if you receive any notification to change your password from the casino, do so on the site yourself, do not reply to any e-mails with your new password. If you ever receive correspondence from the casino pertaining to your details and you don't feel right about, feel free to contact them on the various toll free numbers to confirm the origin of the mail. And finally, if you need to change your banking details for any reason, do so by logging into your account and editing them.
Sending Documents
Casinos may at some or other time request that you send them a copy of your ID document or driver's license and/or scanned image of your credit card. This is usually when they are making a payout or just as a precaution when the risk department is doing checks. If you feel uncomfortable about sending the full credit card details, you can black out the middle 8 numbers and the cvc number on the back of the card to ensure your protection. Read more about why online casinos may request your personal documents and how to submit these safely in our online casino player verficiation guide.
Monitor your Statements
Most casinos have a log of your player history (at Microgaming powered casinos these are the playcheck/cashcheck systems) whereby you can monitor every aspect of your transactional history and play. This should match up with your credit card/bank statement and monitoring these is a quick and easy way to pick up on anything out of the ordinary.
These are just a few simple tips on ensuring how to keep your information secure but implementing them and being continually aware of what is going on around you will go a long way to making your game play at casino enjoyable and ensuring your peace of mind.