The History of Online Slots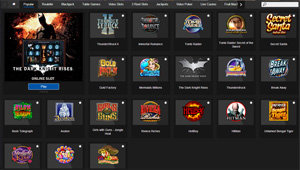 Microgaming powered casinos like Betway
offer some of the best slots online
Online Slots are simple to learn, easy to play and provide hours of online entertainment. Consequently they have risen in popularity and become a mainstay of online and even land-based casinos.
The first slot machine was created in 1887 by Charles Fey. This slot had 3 reels, 5 symbols, and paid out automatically. It was referred to as the Liberty Bell, after one of its symbols, and, if you hit 3 Liberty Bells in one spin, you would have received 10 nickels. They were so popular in local restaurants and bars that the owners couldn't keep up with the demand.
Another slot machine was created around this time, but, instead of dispensing money, it paid out sweets and gum. These machines used fruit symbols instead of card symbols and were used primarily for promotional purposes. They later evolved into what we now call "fruit machines" which are found across the UK in various pubs.
In the 1960s, the first Progressive slot machine came on the scene but it wasn't until 20 - 30 years later that we would witness the revolution of video slots, which took online slots gambling to a whole new level. Buttons, flashy graphics, digital sound effects, and progressive and bonus slot machines replaced the traditional one-arm bandits.
In the late 1990's, thanks to the advent of the internet, online casinos were born and with them came the first ever online slots. Over the past two decades since, we've seen huge advancements in technology and with it have come increasingly better quality online slots, with better graphics and features.
More recently, thanks to advancements in mobile technology, online casinos have gone mobile, offering a variety of popular slots to players which can be accessed through mobile and tablet devices. This has taken slots play to a whole new level, putting these awesome games right into the hands of the player, any time and from anywhere in the world.
In a relatively short period of time, the slots revolution has turned online gaming into a multi billion dollar industry and has proven that popular online and mobile slots are here to stay...until the next technological breakthrough of course!