Insider Gambling Tips for Beginners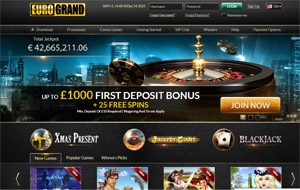 Looking for a great place to play?
Visit EuroGrand Online Casino
Gambling is an age old pastime that is enjoyed by hundreds of people across the globe at both land based and online venues. If you're new to casinos it is important to remember that like any great form of entertainment, gambling is going to cost you money, the key to enjoying your experience is to limit that cost by making the best possible decisions about how much to spend, where and what games you'll play.
Here are our insider tips to doing just that on your visit to any casino, whether it be online or land based.
1. Aim to have fun
Gambling is based on mathematical principles which can often make it a complex subject if you're looking to make serious money out of it. It is way less complicated if you decide to see it as entertainment and play with that in mind.
Of course, winning always adds an extra element of excitement to it all, but you can't count on it, so rather aim to enjoy the games you play and have as much fun for your money as possible. To help you do this, see the point below.
2. Learn basic gambling principles
In order to get the most out of your gambling experience it is important to consider three integral components, namely the Return on the casino game you play, the size of your bet/wager and the speed of game play.
The return on any casino games is determined by the casino's house edge or advantage on it, so the lower the house edge, the higher your returns and the longer your money will last.
Your bet size is pretty self-explanatory and refers to the amount of money you will spend on an average bet. If your casino bankroll is $100, then you'll get way more game play time by betting $5 increments than $25 ones.
Speed of play is a very important factor and one that you have a lot of control over. In any casino game the casino has the edge and this means that the slower you play, the less you'll lose. So sit back, relax and make a night of it!
3. Choose your casino game wisely
While it's tempting to head straight for the slot machines because they're literally everywhere at land based casinos and occupy most of the space in online casino lobbies, while being easy to play, often with low minimums, they are not always the best option if you're looking for the highest returns.
Video poker games have good payout rates if you know how to play according to sound video poker strategy but these machines, like slots, generally end up in fast game play by players. If you do play them, make a point of playing slowly and seeking out the game with the highest Payout Rate. Roulette looks like a lot of fun by the house edge is high and the game play speed is also rapid.
Baccarat is a good option if you're looking for a low house edge and if you can find a game with low betting minimums ‐ this can usually only be a achieved at online casinos. In general betting minimums in this game are high.
Craps is a good option and fun but of all the casino games Blackjack offers the best returns if you play the right variant where the payout is 3:2 and master basic blackjack strategy before playing. The great thing about this game is that you can use a strategy card to assist you as you play, and this will help you to get way better returns.
Regardless of which game you choose to play, take the time to learn the rules and basic strategy, practice playing for free at online casinos before making the transition to real money game play.
4. Set limits and play to conserve your bankroll
When you start gambling for real money it's always a good idea to set a limit for each session and play conservatively with your bankroll until you have mastered the game that you are playing. The slower you play, the less you'll lose and the more you'll be able to play. If you reach your loss limit, take a break, never throw good money after bad.
As you advance in expertise you will be able to bet less conservatively and expand your range of bets, but until then, in order to achieve the best possible returns and maximum enjoyment, stick to the gambling tips discussed.