Online Casino Bonus Guide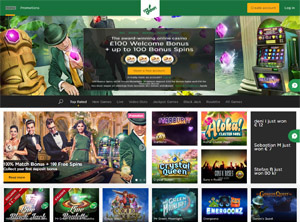 For the best bonus offers online
Visit Mr Green Casino
When it comes to online casinos bonuses you can be sure that players have a variety of questions from how these work to whether or not they are really something worth taking advantage of.
In this article we will examine various online casino bonus offers and discuss the vital aspects that you need to be aware of before you sign up and accept these offers.
How do casino bonuses work?
No matter what kind of bonus an online or mobile casino has to offer, whether it is a match deposit bonus (deposit X and get a 100% match bonus), 1 hour free play or a straight forward sign-up bonus, there is always a time when the casino will require you to deposit your own money.
For match deposit this transaction takes place at the start of play, you deposit £20 and get a match percentage, let's say 100% on top of that. So your player account balance will be £40. For free money and free play/spins bonuses, you may get to play for "free" but to have access to any of the winning you accumulate the casino will require that you make a deposit of some sort and comply with the wagering requirements set out in their terms and conditions.
And this is where it starts to cost you and also how the casino starts to make the money to justify these offers. That said, you don't have to accept an offer and if one is automatically credited to your account, you can contact support to have it removed.
While the use of bonuses is not a great idea over the long term, they can help to add enjoyment to your game play. It's just important to first read the terms and conditions so that you understand what you're signing up for in terms of wagering requirements.
Calculating the cost of a casino bonus
When it comes to understanding how much a bonus will actually cost you, three important factors come into play:
The associated Wagering Requirements (WR).
The percentage the game you play contributes to fulfilling the Wagering Requirements.
The house edge on the game/s you play.
Let's look at these now...
Wagering Requirements
Most online casinos attach wagering requirements to their bonus offers. A wagering requirement is how many times the deposit amount plus the bonus amount is required to be wagered before the money from the bonus can be withdrawn.
These requirements vary from one casino to the next and range from anything between 20 and 50 times the total value. Visit this page for a full explanation on how wagering requirements work .
Interestingly, from time to time Mr Green Casino will run promotions where no wagering requirements apply, so it's a good idea to play here and look out for these when you do.
Game Contribution Percentage
When it comes to bonuses, play on the various casino games contributes to fulfilling the wagering requirements. However, online casinos weight various games differently in terms of percentage contribution when doing so.
For example slot machines generally count 100% towards wagering requirements, but games like Blackjack, Video Poker, Roulette and Baccarat contribute 50% or less. This effectively means that you need to bet (read spend) more when playing these games because if the game counts 50% you will have to place two wagers to match the same contribution as a slot machine.
House Advantage
The house edge or advantage is the percentage of the total wagers placed that the casino expects to retain over the long term. So if a game has and edge of 5%, the casino will expect to make a profit of 5% on that game over an extended period. We say the "long term" or "extended period" as this will cover any losses due to wins the casino has to cover in the short term.
Every casino game has some kind of built in edge. Games like Blackjack often have less than 1% when played according to sound strategy, while some bets in Keno give the house a 50% advantage over the player.
The house edge affects the amount of time you will need before you can turn a profit when playing a particular game.
The Catch
As you can see from the above discussion, the wagering requirements, game contribution percentage and the house advantage are used in combination to ensure that your expected loss is higher than the value of the bonus.
When gambling without accepting a bonus, your expected loss is calculated as follows:
Expected loss = Wager Value x House edge
So if you bet 1000 on a game with a 5% house edge, you should expect to lose 50. And if you're playing to unlock a bonus, the amount you will need to bet is dictated by the wagering requirement and game contribution percentage as follows:
Amount wagered = (deposit + bonus) x Wagering requirement x (100/ game %)
So: Expected Loss = ((Deposit + Bonus) x Wagering requirement x (100 / Game %)) x House Advantage
Let's look at that in terms of a real world example.
If you are offered a 100% match bonus up to £100 with a 30x wagering requirement and you want to play blackjack where the house edge is 0.5% because you're playing according to strategy and the game counts 10% towards your wagering requirement for the bonus. Your expected loss will be:
((100 + 100) x 30 x (100/10) x 0.005
This will give you a figure of 300.
This means that you will have to lose around £300 in order to unlock your £100 bonus. And that is the reality of bonuses and why you shouldn't always take every offer that comes your way.