A Guide to Online Casino Comps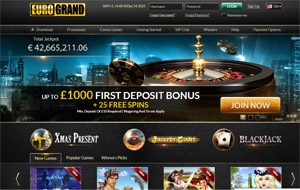 For one of the best comps programs online
Play at EuroGrand Casino
Online and mobile casinos offer rewards in the form of comps in order to attract players and reward them for their loyalty. Unlike land based casinos who can offer players a variety of perks from free drinks to hotel rooms and more, online casino comps generally consist of loyalty points which accumulate as you play and can be exchanged for casino credits and occasionally real world rewards.
Here we'll take a look at the various aspects of casino comp points, also known as loyalty points, and how they work so that you can get the most out of these casino offers whenever you play.
What are Comp Points?
As mentioned above, comp points are a type of incentive awarded to online and mobile casino players for playing at a casino. In general, online casinos have loyalty programs in which players are either automatically enrolled upon registration, or to which certain players are invited by the casino host - although the former is far more common and the latter applies to online casinos offering specific VIP programs.
Loyalty points accumulate as you play specific games and are ranked according to tiers where the more you play, the more you will earn. Once you have collected enough of these points you will be able to redeem them for casino credits, cash and occasionally other rewards.
How do Comps Points work?
Every casino has their own way of managing comps points and rewards as well as how they are converted into actual gains for the player. A number of factors are considered when calculating these. Let's take a look at those now:
Conversion Ratios
While the various online casino loyalty programs have different rules, point systems and rewards, you will always find that you are awarded points for playing games. The important thing to look at is the conversion ratios offered as different games are also weighted differently in their capacity for earning loyalty points and this differs from one casino to the next.
Generally, as with games counting towards wagering requirements on bonus offers, casino games with higher house edges will award you more points, for example slots, while some varieties of games will be excluded altogether.
Validity only on Certain Games
As mentioned above, some online and mobile casinos will exclude certain games when it comes to awarding loyalty points. This doesn't mean that you should avoid these games altogether, it just means that if you love blackjack for example, you should try to spend the majority of your game play on games that will earn you points and more rewards. So always check on this before you play.
Loyalty Tiers
The majority of loyalty programs have structured tiers where players can earn their way to higher levels as they play. The higher you progress, the better the rewards. For example the most basic level may be bronze and you will earn a lower rate of comps for game play. Once you have played enough to progress up to the Silver Tier you will receive higher value bonuses, access to more exclusive tournaments and events. Likewise as you progress to the Gold and Platinum levels the perks increase.
With this in mind it's important to find a reputable online or mobile casino to play at from the start as this will mean that you can begin to build your loyalty status right from the start without losing out due to having to change casinos.
Redeeming Points for Cash
In order to redeem your points you will have to reach the level stipulated by the online casino in their loyalty program rules. In general you will be able to easily convert your points to casino credits or cash.
Occasionally some VIP casino programs will offer players rewards in the form of tournament entries, real world merchandise (think designer gear, smart phones, watches and jewellery) and occasionally on the upper tiers, trips. This information and all of the attached terms and conditions should be accessible in the Loyalty Program section but if you can't find it, contact customer support for details.