Online vs. Land Based Casinos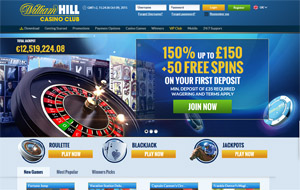 Online Casino like William Hill Casino Club
offer great games variety & convenience
Ever wondered what the attraction of playing at online casinos or bingo halls as opposed to land based ones is? Well, having been in the industry for such a long time that we had our theories but wanted a much wider view, so we sent a few of our loyal subjects from across the world into the field and discovered that there are more advantages to playing online than one would have originally thought! Here is what they had to say:
Convenience: Online casinos allow you the pleasure of being entertained in the comfort of your own home while land based casinos (if they even exist in your part of the world) require you to dress up, commute and put up with the crowds. Although our volunteers do enjoy a night out occasionally, a few have children and can't always leave them with someone, so playing the odd game at home allows them to have the best of both worlds.Another point mentioned with regard to convenience is that you can smoke in your own home whereas many casinos and bingo halls have smoking bans or dedicated rooms for smoking where there are fewer games on offer.
Learning: Many of our volunteers admitted to wanting to try out table and card games at brick & mortar casinos but were too embarrassed to play as they did not really know how everything worked and noted that other players as well as some dealers were intimidating and rude if a newbie made mistakes. Playing these games online presents a valuable opportunity to familiarise oneself with the rules and basic game play strategies with no fear of making mistakes, and you have the ability to play for free in the practice mode until you feel comfortable enough to place a Real Money bet. And, of course, if you get really stuck while doing that, you can always use the auto-play function.
Greater Control: This point goes hand in hand with the learning one. At online casinos you control the pace of the games you play and can spend all night at a table or machine without any pressure.
Bonuses and Promotions: While land based casinos do run promotions, the access to these is not always easy, and they don't offer you welcome bonuses. Online casinos on the other hand not only run a variety of regular promotions which are open to all players, but also greet new players with generous sign up bonuses and free money offers along the way.
Higher Payout Rates: While online casinos do have pretty steep overheads, they are not as expensive as those of a land based casino, so more of the money goes back into the betting pool to offer those great promotions and prizes as well as higher jackpot payout rates. Online casino networks are also bigger, making progressives on these much larger.
Greater Games Variety: Brick and Mortar casinos have a limited space in which to arrange their machines and tables, in the virtual environment this problem does not exist and as such there are huge variations of card and table games on offer as well as multitudes of single, multi-reel, video and jackpot slots on offer at online casinos.
Privacy: Online casinos guarantee complete privacy and anonymity; brick and mortar can't offer this for obvious reasons.
Social Aspects: Sociability was an aspect which some of our volunteers said they liked about land based casinos but noted that since online Casinos have recently introduced chat rooms to some of their games, this making playing more sociable than before and allows one to meet people from across the world. Again, you have control on whether or not you want to interact with people whereas offline it's more difficult to ignore the tales of the old lady sitting next to you.
While there are many, many benefits to playing online, our test subjects all agreed that the overall tangibility and experience of a land based casinos were still very attractive to them, and that while they would all definitely be playing online, they would not totally forsake land based venues and will still be making time for that occasional trip to these from time to time. Although recent evidence suggests that dealer secrets reveal why you should stick to online casinos, the choice is really up to you!