XtraWin Feature in Playtech powered Online Slots
The majority of online casinos offer slots with an enhanced wagering option that allows you to unlock special features when it has been activated. At Playtech powered online casinos, these types of features are not as prolific as at casinos powered by other software brands, but you will find it on certain games in the form of the XtraWin feature.
The XtraWin feature is optional and can be activated within the game by clicking on the XtraWin image. Once active, the screen will change in order to indicate that this feature is live and all paylines will automatically be enabled and will stay active for the duration of your game play until XtraWin is disabled.
In playing slots with this option enables, your standard wager will be increased by 50% and the game is altered allowing for Expanding Wilds which dramatically increase potential wins and payouts. Scatter payouts are also boosted up to 150%, again giving you greater potential for generous returns.
If you come across a Playtech slot offering the XtraWin feature, it is always advisable to play this option as it will ensure that you get the most out of the game. If however you prefer to play a single line at a time instead of the maximum paylines, then it's probably better to do so on another game.
Some of the most popular Playtech video slots offering the XtraWin feature are Wings of Gold, Pharaoh's Secret and Dolphins Cash.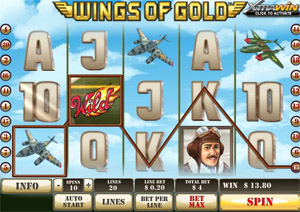 Play Wings of Gold Xtrawin slot
In the World War 2 themed Wings of Gold slot, the pilot is the wild symbol that doubles your payouts, while the Wings of Gold slot logo rewards you with up to 100 free spins, with the pilot transforming into the expanding wild in the free spins game. When the XtraWin features is activated on this slot, five golden jets do a flay by on the reels, turning the sky backdrop golden and transforming the pilot symbols in the base game into expanding wilds as well, while the scatter symbols are multiplied to enhance your winning potential.
In the Egyptian themed Pharaoh's Secret slot, Pharaoh is the wild symbol and the free spins bonus is activated by the Pyramid, with Pharaoh transforming into an expanding wild. The game functions in the exact same way as Wings of Gold.
A different spin on the XtraWin feature can be found in the Dolphin's Cash slot, which also features Shifting Wilds in the place of Expanding Wilds. In this game the Dolphin symbol initially appears on the fifth reel but with every spin thereafter will move a reel to the left. When you enable the XtraWin feature, this symbol is then cloned into two on the fifth reel, both moving to reels on the left with every spin, giving you more chances for multiplied payouts.