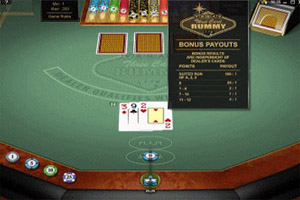 Play Vegas 3 Card Rummy now!
Every now and again we all need a break from the traditional online casino games like Slots, Blackjack, Video Poker and Roulette and if you find yourself looking to play something a little different, then Vegas Three Card Rummy featured in most Microgaming powered online casinos could be a great alternative for you, especially if you're a poker fan.
Vegas Three Card Rummy follows a similar format to casino poker but it has a unique scoring system and rather interesting format. It is a relatively easy game to learn and play, but also one that is easy to make player errors in if you don't play close attention, so if you're looking for a game that doesn't require concentration, then this one is not for you and you should rather stick to slot machines. If however, a game that requires concentration and some skill is what you're looking for, it's a great option.
Here we'll take a look at how the game is played as well as the strategic principles that you need to be mindful of when playing this game in order to achieve the maximum payout rate possible.
The game begins with the player selecting between the ante and bonus bets. It is always preferable to select the ante bet as opposed to the bonus bet, so always select that one. Both the player and dealer are dealt three cards, the dealers are however dealt face down.
Your first move will be to calculate your score based on the cards you are dealt. Cards are scored as follows:
Ace: 1 point
King, Queen & Jacks: 10 points
All other cards are scored according to their rank
Exceptions: Paired cards, 3 of a kind & suited consecutive cards: zero points
The aim of the game is to hold a hand that has a lower total value than that of the dealer and once you have calculated the value of your cards you will need to decide whether to raise or fold. In order to raise you will be required to add an additional wager that is the same value as the ante.
Strategically, to play Vegas 3 Card Rummy optimally you should raise only when you have less than 20 points and copy the dealer's strategy. While this may be dangerous in other casino games, in this one it is the best way to play the game.
The only time mistakes really come into play in this game is when points totals for each hand are miscalculated, so it is essential that you concentrate and check your tallies before making a move.
If the dealer's cards amount to more than 20 points he/she will not qualify which means that the ante will pay 1:1 and the raise pushes. If the dealer's cards do qualify but the player wins with a lower total value, then the ante will pay 1:1 and the raise will pay out according to the paytable based on the number of points that the player is holding. Payouts are as follows:
0 points: Pays 4 to 1
1 to 5 points: Pays 2 to 1
6+ points: Pays 1 to 1
As you can see, this is a rather simple game but does require concentration and a little basic mathematical skill. For those who enjoy this kind of a challenge, it may become a firm favourite fast.