Ways to Change up your Slots Play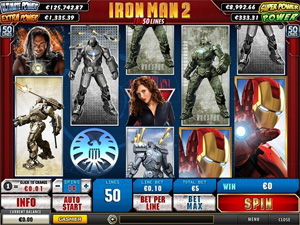 Play the Iron Man 2 Slot at EuroGrand
Slots is one of the most popular casino games the world over, making up over 70% of casino revenue. In spite of their popularity though, any slots player will know that after years of playing, it can sometimes be boring to sit and spin the reels hour after hour. Fortunately there are a number of fun ways to change up your slots experience, adding a little more interest and excitement to the mix.
So if you ever find yourself slipping into a rut, try some of these suggestions to add a fresh new element of fun:
Play a variety of machines in an hour
We all have our favourite slot and as is human nature, end up playing it each time we visit the casino. No matter how much you enjoy a particular game though, eventually it's going to get a little stale. So if you find yourself spinning the reels with less enjoyment and zeal than before then a great thing to do to add some variation is to play 5 (or more) different slots in an hour. Don't just stick to the most popular slots at online casinos, but also play the lesser known machines as these are often just as entertaining and often have good payout rates. This way you'll get some variety and may even discover a new game to play in future.
Choose a theme for each session
A great way to spice up your slots play is to choose a theme for each session, for example, you could declare one session Comic Book Slots Day and only play Marvel and comic book themed games like Spiderman, Hulk or X-men slots. On another day you could play only sports themed slots. This is very easy to do when playing at online casinos as they literally offer hundreds of different themes at the click of a mouse. By switching up your game play you'll get more variety and may even discover a few new favourite to add to your regular routine.
Add Exercise to every win
Add a workout to your slots session by doing some kind of aerobic exercise like sit-ups, pushups or jumping jacks every time you win 10 coins or more. This way you'll get in a workout while you play and be richer and slimmer in no time!
Put on your favourite soundtrack
Online casinos go a long way to adding riveting sound effects to their slots games but if you're a little bored of listening to the same sounds over and over, grab your mobile device and put on some of your favourite songs to sing along to as you play. You'll be surprised at just how much music can add to your enjoyment of a game.
Use the Chat Function for a change
If you're usually a solitary slots player consider playing a multi-player slots game and use the chat function to chat with other players. Not only does it add a social element to your game play but it gives you the chance to chat with players across the globe. If you're not into chatting to strangers then arrange with a friend to play at the same time and you can chat to each other instead.
Sign up for a Slots Tournament
If you've never taken part in an online slots tournament, do so! These are always highly entertaining and potentially rewarding events that enable you to compete against other players as you play. You can take part in the tournament chat if you're feeling social but if you're not you can just keep an eye on the leaderboard as you play. Either way, it's a great deal of fun and a new way to play your favourite slot.
As you can see, there are a number of ways to spice up your slots play and add a new element of fun as you spin the reels that you may not have considered before!