Worst types of online slots you can play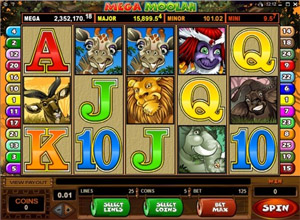 The Mega Moolah Progressive Slot
has
multiple randomly awarded jackpots
making it a good bet!
If you do some research into the online or mobile slots you've been playing you may find that one or more of your personal favourites is avoided by more experienced players due to its poor payouts.
As a novice player you may not be aware that not all slots are created equal, so it's not as simple as signing up at an online or mobile casino and just picking the first slot that catches your eye. In fact, doing so is one of the most common slots mistakes that player make at online casinos.
If you're not just playing purely for entertainment purposes and want to try to maximise your odds of winning as much as possible, then it pays to do a little research on the slots you play as payout rates can vary as much as 8% depending on the machine you choose.
Here we'll take a look at what to look out for when playing online slots and which features you should avoid, so that you only play the games that offer you the best chance of winning every time!
Exercise Caution when playing Multi-Spin Slots
You'll find that a number of Microgaming and Playtech powered online slots allow you to play a number of the same type of slots simultaneously from within a single screen, these are called Multi-Spin Slots. Not only are these games highly entertaining but they also offer above average payout percentages in general, making them very attractive to players.
The problem with these games however is that because you're playing multiple games at once, you're spending way more than you usually would on a single slot per spin and this affects your bankroll fast! It also means that even though they payout better in general, this may be negated by your need to spend more per spin.
The best advice to follow when playing these games is to restrict your game play time. If you happen to win in your first few spins, stop playing and lock in the wins by halting game play, or playing games that place lesser demands on your bankroll.
Avoid Bonus Slots with Accumulator games
We all love bonus slots because it's great to be able to enjoy a bonus game that is different from the base game and has the potential for increased rewards. Each bonus slot is different - some offer free spins, some allow you to unlock bonus game rounds where you pick X of Y or are required to perform a task to unveil the bonus prize. Some games have a single or multiple set bonus games while others trigger increasing numbers of bonuses as you play and are known as accumulator bonuses.
While these bonus games are fun to play, they can lead to spending more cash than you anticipated as you play to unlock these rewards which in turn don't always payout as well as you'd hoped.
If you're a bonus slots fan then concentrate your efforts on games that award bonus rounds and features at regular intervals, rather than accumulator formats. These types of slots are just as likely to reward you with payouts as their accumulator counterparts, but often with less game play requirements in the base game and less financial input.
Recently Hit Progressive Slots
It is a rare event that a progressive slot pays out its jackpot again soon after being hit. While some of the larger jackpots like Mega Moolah reset back to $/€/£1 million right away, that still doesn't mean that they will pay it out immediately.
While it is completely possible that these machines can payout right after being reset as each spin of a slot is completely random, it's more an exception than the rule. To have the best chance of winning a jackpot it is advisable to play games offering multiple progressive jackpots which are awarded at random, giving you better odds of winning.