Selecting a Video Poker Game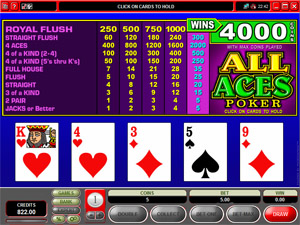 Some Deuces Wild Video Poker machines
offer outstanding returns
Play at EuroGrand Casino now!
When it comes to selecting a Video Poker Game at either a land based, online or mobile casino, you should be considering more than just finding one that "feels" right. In fact, in addition to learning sound video poker strategy one of the best video poker tips that we can give you as a player is that it is possible to determine the return of a video poker game even before you play it. This is something that can make a considerable difference to your bottom line at the casinos!
On average casinos earn a profit of around 3% on typical video poker games. This profit is referred to as the house edge or advantage. So if a casino earns 3% of all of the money played on a specific machine, the return (or part that is returned to players through payouts) is 97%.
The returns of each machine are listed on their respective paytables and not all video poker games offer the same return, and this even applies to the same variants that offer slightly different rules which affect the paytable. For example certain Jacks or Better games will offer different payouts for a Full House and Flush that dramatically affect the returns. This means that the Jacks or Better game variant you choose can be a big mistake or a good strategic move that will work in your favour. Games offering 9 coins for a Full House and 6 for a Flush have a payout rate of 99.54% whereas the same game offering 8 coins for the Full House and 5 for the Flush dramatically reduce payouts to 97.3%.
You can easily see how this would affect your returns and casino bankroll if you overlook it because on the one machine the casino will be earning a minimal 0.46% of the bets you make, while the other one will give them a 2.71% edge. The latter is 5.9 times higher! Why give away your hard earned money when you can simply spend a few extra minutes examining the paytables of various video poker games to find the one offering the best returns?
Most casinos offer a host of machines with a variety of paytable structures, but they don't point them out to you. It is common knowledge that most video poker players simply select a machine at random and play, without giving the finer details a thought. This simply means more money for the casinos.
This is a real pity for players as video poker is one of the few games that can offer returns at the casinos, and some variants like Deuces Wild occasionally payout at over 100%. These machines are generally more difficult to find but you will find them at a few online and off the strip casinos in Las Vegas. They also require perfect strategic game play to leverage returns of over 100%.
While you won't get rich off of machines offering 100% plus payouts, usually because they only offer lower coin denominations, you'll still be able to go home with more than you started with.
No matter what variant you choose to play, always check the paytables and find the most favourable one, and then play it according to sound strategy in order to ensure the highest possible returns.